If you are not lucky enough to own a pair of these delicious heels then you have not yet experienced the best heels money can buy.
Kandee was brought to life by the heel genius himself Mr Kandee, or Josh Wayman as he is really known, I am sure you'll agree that he has brought women's heel dreams to life worldwide.
Here is a little bit of background info on Kandee:
Wayman launched Kandee in 2010 with a mission to create footwear that is the ultimate eye-candy. Since its inception just over one year ago, Kandee has garnered cult followings in London, Spain and Italy, and global fashion icons Victoria Beckham, Rihanna, Kim Kardashian, Eva Longoria and Cheryl Cole have all been spotted in Kandee. The brand also caught the attention of major fashion publications, with editorial coverage in Vogue, InStyle, Cosmopolitan, Grazia, OK!, Star, Look and Fabulous, as well as top blogs like Chiara Ferragni's The Blonde Salad and Ashley Madekwe's Ring My Bell. Kandee was most recently seen on the catwalk at Barcelona Fashion Week 2012 and the previous year debuted at London Fashion Week 2011 alongside Halston, Miu Miu and Luella.
Celebrities, press, consumers and designers alike are in a frenzy to satisfy their sweet tooth with Kandee. Designer Josh Wayman, the force behind the highly coveted shoes, has one foot ahead of the others in the industry... literally. At only twenty-two years old, Josh, has just launched his fourth and highly anticipated Spring/Summer 2012 shoe collection "LOUD" at a prestigious celebrity event in Central London. The current vibrantly-hued, urban Spring/Summer Kandee shoe line is described by Wayman as "fearless and sexy" and is his biggest and boldest collection yet.
One of Josh's most recent creations was this amazing
Pink
Collection, with 10% of the proceeds from each pair going to the
Pink Ribbon Foundation
, choose from either the gorgeous...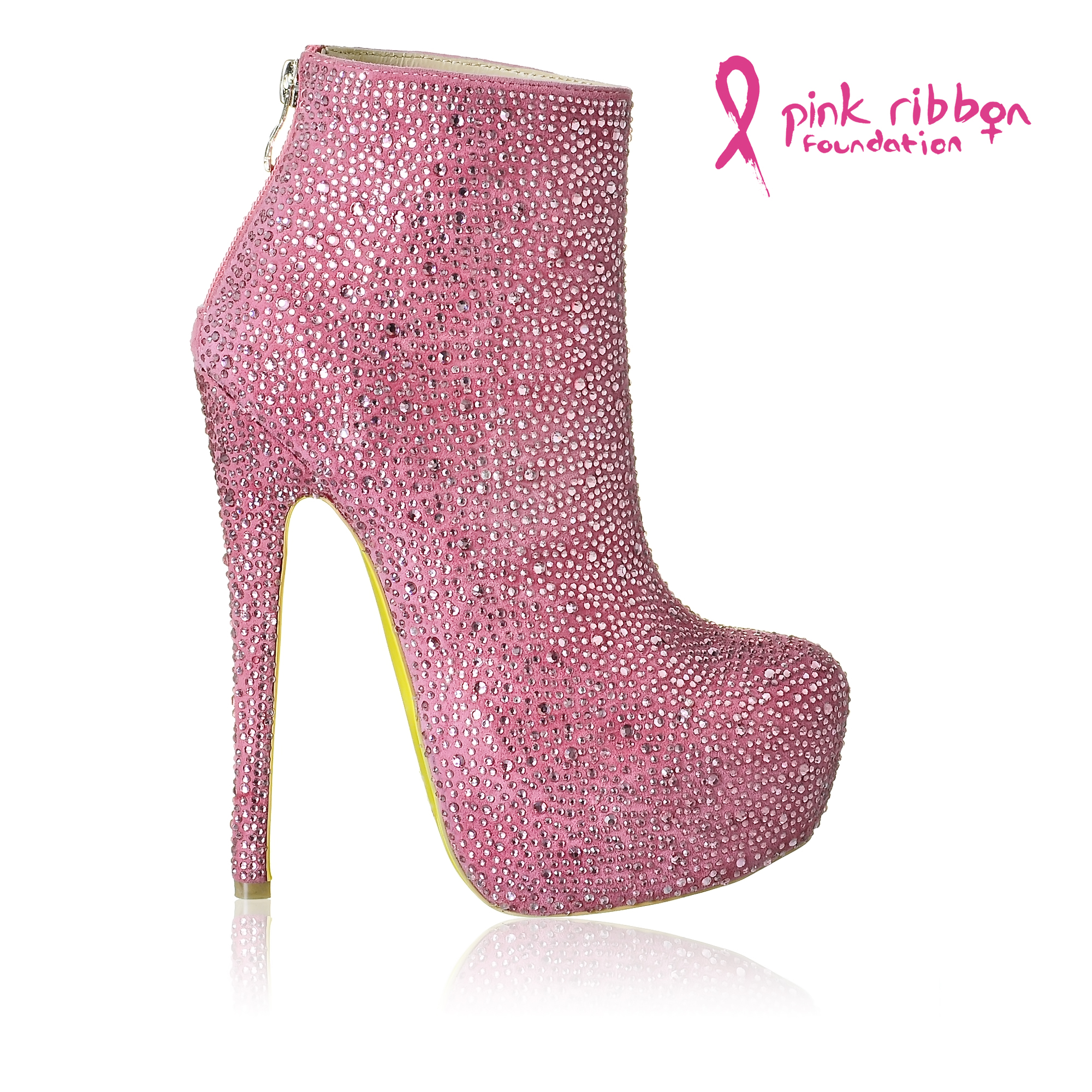 If these pink beauties are good enough for Miss Amy Child's then they are good enough for me, and the fact that Kandee donate money from each sale just makes me love them as a company even more, I mean do you recall any other shoe company doing such a good deed?!
If you haven't been over to the sweet shop then have a peek, you wont believe your eyes, and I would strongly advise you have your credit card poised and ready (or the loving man in your life's, I mean if he truly loved you he surely wouldn't mind you getting a pair or 2 would he?!) I can promise you, you'll find at least one pair you simply cannot live without.
I have shortlisted my absolute faves for you...click on the shoe name for a direct link to the page where you can buy them!
All of these styles are from the most recently launched LOUD S/S Collection inspired by your fave Kandee!
Kandee heels come as standard with a not for the faint hearted 6.1 inch heel, and the designs on each and every pair is truly out of this world.
I
LOVE
Kandee, just because of the fact that they allow you to make a statement, yet they still make you look classy & fabulous.
You will always get people stopping you in the street asking you..."Where did you get those shoes from?!" Kandee heels are true show stoppers and your outfit wont really come into it because all the attention will be on your feet, finally a pair of shoes that is guaranteed to cause shoe envy everywhere you go.
My personal collection consists of just 2 pairs but I love both of them and every time I wear them I feel amazing. I have the sold out 'Diamonds' which literally adorn your feet in sparkling jewels and the spike detail really makes them a little bit feisty, yet the glitter soles still keep them super girly and feminine.
And my newest additions are the gorgeous Pinki, I adore the furry material and super bright pink colour on these, again the tiny spikes give then the RAWR factor, all the while the crystal covered heels and glitter soles make them super feminine.
I truly believe Mr Wayman & Kandee are going to revolutionise the shoe industry, as the barriers are already pushed way past anything rival brands may have come up with, and I know with time this is only going to keep on wowing us all, I know later this year Josh has already got a handbag collection in the pipeline, and I know I will probably want every bag he comes up with!
Check out the sweet shop now at
The Kandee E-Boutique
, the website is mobile compatible too so you can even sweet shop on your travels!
If you are a Tweeter then get following the heel genius himself
@mrkandee
And follow
@KandeeShoes
for the best customer service's you'll ever find, they get back to you so fast & even provide aftercare advice for your new sweet feet treats.
Also keep up with the Kandee News and join the
Facebook Page
I cant declare my love for Kandee anymore but these heels are addictive and you wont be able to stop at just one pair. Be ahead of the game & own the heels that you wont see everyone wearing on a night out.
Be bold, be brave, and don't be scared to embrace a show stopping pair of these heels.
My motto is "Life is short, so buy the Kandee"
What do you think of the amazing Kandee?
CF xxx