So excited to share this post with you all.
Those of you who follow me on Twitter & Instagram will have seen my updates!

It was Valentines day on Thursday, the 1st one with my new man in my life, Dan.
I was whisked away to London for a 4 day break, and my god it was amaze!
We travelled up to London by train, which only took 3 hours from here, and I was so excited to get to there, to be fair I think I have driven Dan crazy with my daily countdown since he revealed we were going to London 40 odd days ago....
Our train got into Paddington, which then meant we had the task of taking the tube to get to our hotel, luckily Dan is a London genius and got us on to the right tube within minutes, I even got my very first Oyster Card (sad to be excited about it I know, such a tourist, ha ha!)
Arriving in London we checked into our hotel, we stayed at the
Copthorne Hotel
, in Stamford Bridge right by Chelsea FC, beautiful hotel, would highly recommend it..
Waking up in London on Valentines morning was lovely, but it was an early start, we were up at 7am to get to the other side of London to go and visit the Shard, the tallest building in western Europe which opened to the public on the 1st of February,
First things first though we had to open our Valentines cards to each other..
My card from Dan :)
My card to Dan
Valentine's Morning, ready to go to the Shard!
We hit Pret A Manger for breakfast (the porridge is gorgeous!)
After fuelling up ready for the morning, we headed off to The Shard, it looked pretty big from a distance but nothing could prepare me for how big it actually is, It's a stunning building, we took some compulsory Tower Bridge photos on the way.....
On a clear day you can see for 40 miles, we were pretty lucky weather wise, it is pretty disorientating seeing London from such heights.
It costs £24.95 each, which is a little steep, but there is no limit to how long you can stay & no queues so you do get your moneys worth. Being Valentines Day I was hoping to see some proposals but no one got engaged while we were in there, boo although they had 2 up there on the day.
Getting my feet firmly back on the ground was a nice feeling, and when Dan said Bond Street was our first stop for shopping to me that meant only one thing....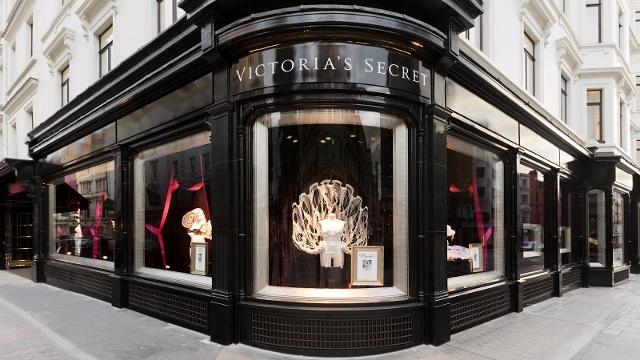 Having spent an absolute fortune on importing clothing and body products from VS via the net it was nice to be able to browse the flagship store in Bond Street & my god it was so worth the trip.
The first thing you see when you walk into the store is what I can only describe as fragrance central, 2 walls full of VS perfumes, the attention to detail in all the drawers and the crystal handles really set the decor off and give it a real boudoir feel.
This beautiful crystal/glass style sweeping stair case is stunning & the huge video wall behind it has a really cool effect as it reflects off the glass...
You walk in to this store on the 2nd floor, which is the 'sexy' boudoir level, showcasing all the sexy VS underwear.
The range of perfume and body lotion is amazing, I was thrilled and couldnt even decide where to start looking, or smelling for that matter.
You then take the crystal staircase downstairs and you end up in what I can only describe as my heaven, yep you guessed it, the PINK section, poor Dan was deafened with my super excited shreik of excitement as i dashed down the stairs to this area, and boy did I find some goodies :)
warning, sensory overload of pinkness coming up... and agin the VS fashion show outfits were on show from the PINK catwalk...
one DAN and his PINK dog, loved the oversize chairs in the store too.
Then on the first floor you have the fun & less sexy, angels section, playful yet practical undies, again you'll see the catwalk outfits and wings scattered around the shop.
Some shots of the VS Fash Show outfits from the store...
Those of you who have been with me since the start will know that I do have big boobs, so I wasn't convinced I would find anything to fit me, the ladies in there (have the best job) were so helpful and measured me up VS size, so that was it then I was off hunting for any bras I could find in my size. I measured up as a DDD cup size, and usually wearing an F/G here in the UK I was pleased to be able to find anything in my size.
So here is what I bought...
VS Make Up Bag £15, VS Lip Glosses £10 each or 4 for £20
PINK Body Lotion, seriously if you've never tried these you need them in your life! 2 products for £18 or 3 for £25
PINK Body Mist £13


VS Crop Yoga Pants £31 & VS Bootcut Yoga Pants £36
There's no mistaking the branding on these!
Covered in sparkles!
Sparkle Tee £26.50
LOVE PINK Vest £13.50 reduced from £27
First VS bag on the 2nd floor :)
Day 1 of my VS fix!
And look what Dan got me for Valentines Day from VS..
Dream Angel Bra £45 & Thong £10 & Pink Champagne Chocs VS Edition!




Next stop..Oxford street for more shopping, Forever 21, Selfridges & More, you'll find all the big names here, this is what I picked up...
Heels that look like trainers! Super Cute & Practical! £27.99 New Look
Yellow Tux style blazer £25 Forever 21, Black Blazer £7 Primark, White Jukmper Hollister £48 reduced to £15 & Love Nightie £10 Forever 21
All my beauty purchases...
As we had been out the hotel since 8am it was a really long day and I had arranged for us to go on the London Eye in the evening, it was nice, but really didnt match up to the Shard height wise!
Friday we ventured out to Westfield Shopping Centre
High Tops at the ready for day 2 of shopping!




Situated near the Olympic Park, over 300 shops we spent hours in this place, and it puts our local 'mall' to shame..
There's a VS in Westfield but it's no where near as good as the New Bond Street store!
More shopping in VS Westfield, whoops!
Dan travels to London a lot and took me to one of his fave resteraunts on Friday night, perfect oppertunity to go and explore Leicester Square & Picadilly Circus, and to get glammed up of course!
I picked up these dresses on my shopping trip, and had to get it in both colour ways as I liked them both £13 each, total barg!
It was pretty cold and as I had bare legs I was sensible and wore a coat, I did trek round for the evening in my fave nude heels though, probably not the best footwear but a girls gotta look good right?!..
Tiffany Cab!
We ate at Adam's Ribs after a quick stroll round China Town
We reached the square and M&M World was open (until midnight) so we decided to pop in after dinner
The smell as you go through the doors in this place is so sickly sweet but if your a chocoholic then you wont mind, Dan found the M&M Goodness a little too much, but I must say after indulging in some wine at dinner I had a great time in this colourful sweet shop!
On the ground floor you'll find the M&M Abbey Road version of the sweets, these guys were getting lots of attention...
I hope you've enjoyed reading & seeing all my snaps from London, because I had such an amazing time there, we have already booked to go back, roll on May!
I love the hustle and bustle of London and would move there tomorrow, although it does feel like more of a treat to go annd spend and enjoy all the tourist attractions our capital has to offer.
What did you all get up to this Valentines Day?
Lots Of Love